Dahon Folding Bike customization
Dahon has made an excellent range of folding bikes for many years. Out of the box they tend to function comfortably and well. Variances between bikes are not always obvious, but they are there. Though not commonly discussed, Dahon Bikes can often be upgraded very significantly with relatively modest investments and work.
Most recently I have completed the following upgrades:
1: Upgrade the Visc SL to a 349 rear wheel (from 305): This makes the bike ride much better because it effectively reduces the slope of the seat post, keeping the bike from wanting to do wheelies on a blink, and moreover, speeds up the bike by taking the gearing and adding additional distance covered every revolution (Gear Inches measure).
2: Swap the Visc D18 Appletini handlebar post to an inner fold, adjustable height handlebar post, and couple the handlebar post with touring handlebar which gives a much more dynamic set of hand and body positions.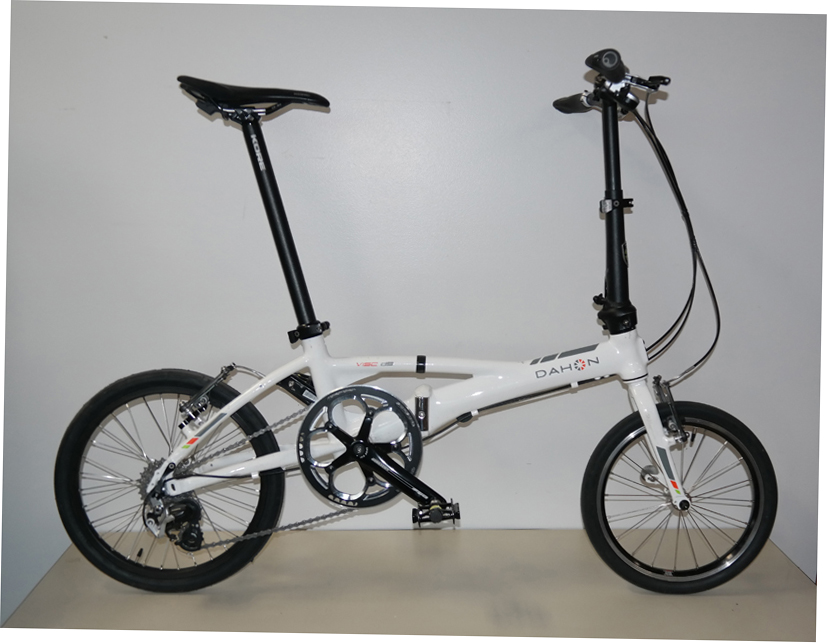 Nomadic upgrade, Visc SL 9 w/ 349 rear wheel
Both of these bikes are "my" bikes so I am doing things to make the bikes work best for me. I have often found that the things I like generally other people also appreciate for their usage. In these two situations I am sure that is the case.
Visc SL 9 with 349 iso rear wheel and Comet tires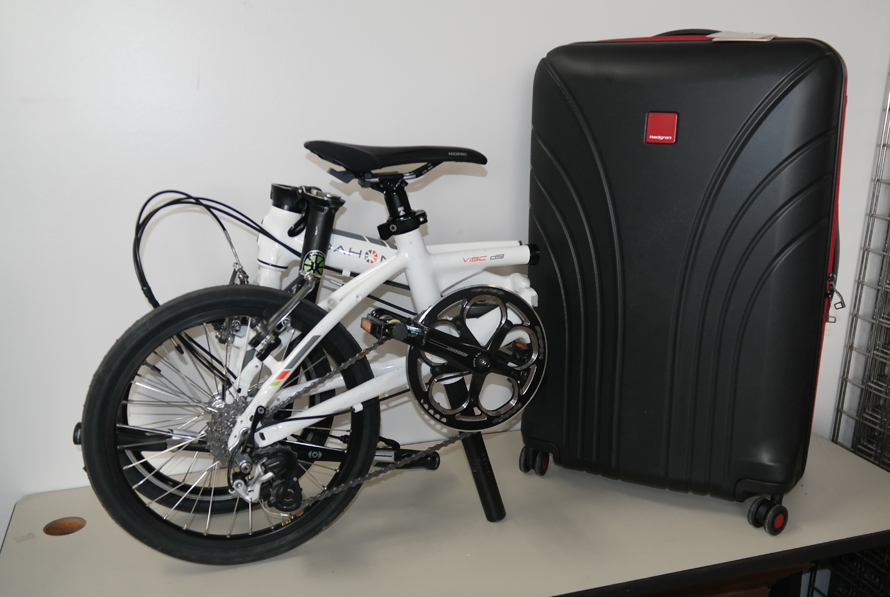 Visc SL 9 - even after wheel upgrade will fit with wheels on in many 61" Airline accepted suitcases
The change to the Visc SL is really important for someone who is a bit taller like me (5'10") wanting to use the small and light Visc SL. The SL is really a cool bike because of its "compactness" and high build spec. I can fit it into one of my normal check in suitcases without even removing the wheels. It is also a very light bike and it is a great bike for the traveling life. Unfortunately, in the standard build it simply was not effective climbing hills. The small change in wheel size effectively tunes the bike so that it can be used on hills and at higher speeds.
Visc D18 with inside fold handlebar stem, and butterfly handlebar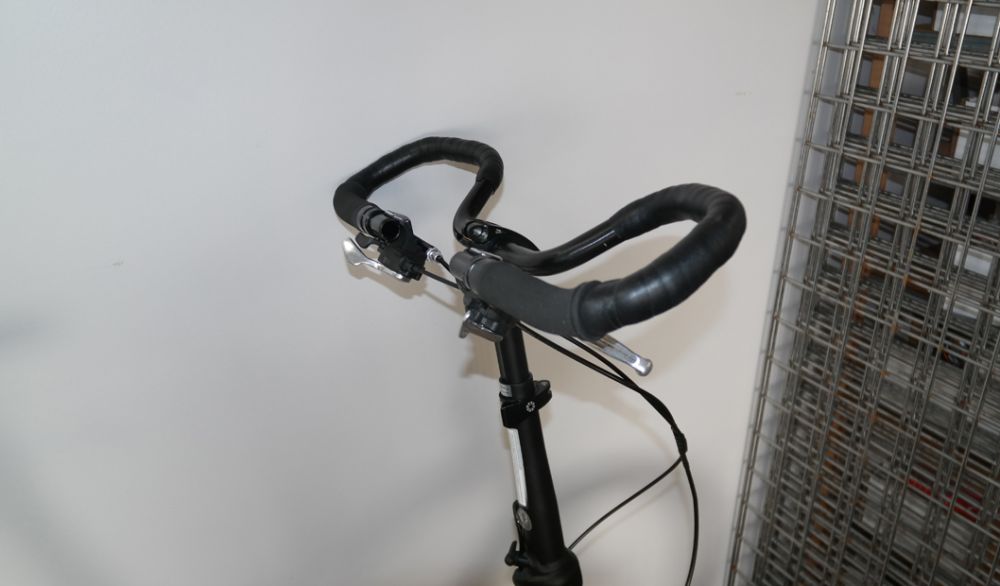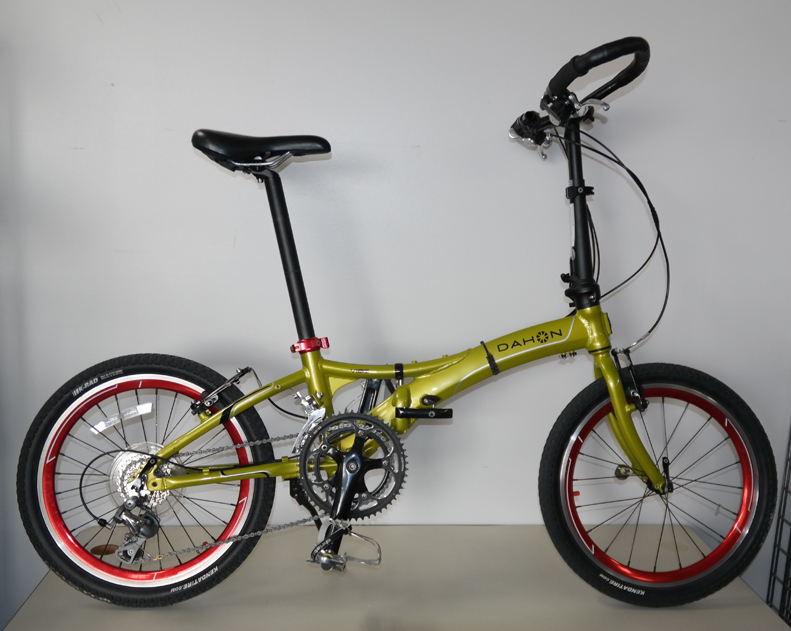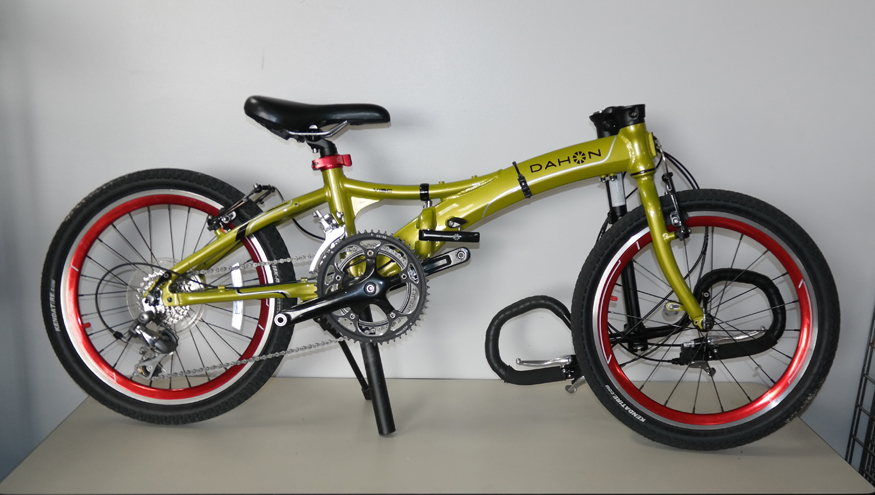 The change to the Visc D18 really brings the bike full circle to being and quick and compact fold, and providing a more adjustable fit. The more compact fold is because the handlebar post folds "inside" the fold and being adjustable height it allows both tuning in "cycle mode" and tuning in folded mode. Both are important in terms of usage. Having a folding bike means that one uses the bike in both folded mode and riding (unfolded) mode. (picture of this upgrade coming soon)
| | |
| --- | --- |
| | |
| Standard Handlepost with standard handlebar position. | After Handlebar Post swap with quick spin adjuster and butterfly handlbar between. Much more compact |
Visc D18 and Mu D10 color accents and weight saving updates
3: I have side-graded both the Mu D10 Tour and Visc D18 Tour models to the "non tour" models fundamentally in order to reduce weight and to make the color schemes work, to my view, in a more aesthetic way. Seat posts, were changed. Racks and Fenders removed. Component colors were changed. Both bikes had big mis-matches between their parts having, for instance, a black seat post on the Visc D18 tour and a silver handlebar post. Further, though I love the function, I find the extra weight of the Dahon Post pump to be more than I want to carry. In the "street" version of these bikes weight comes in below 25 pounds while still including kickstands and adjustable handlebar posts.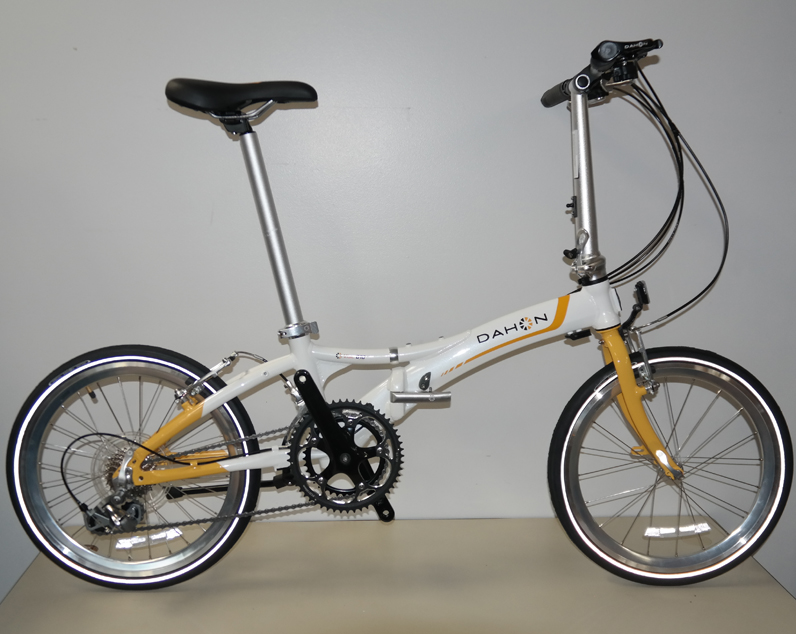 Nomadic upgrade 2018 Visc d18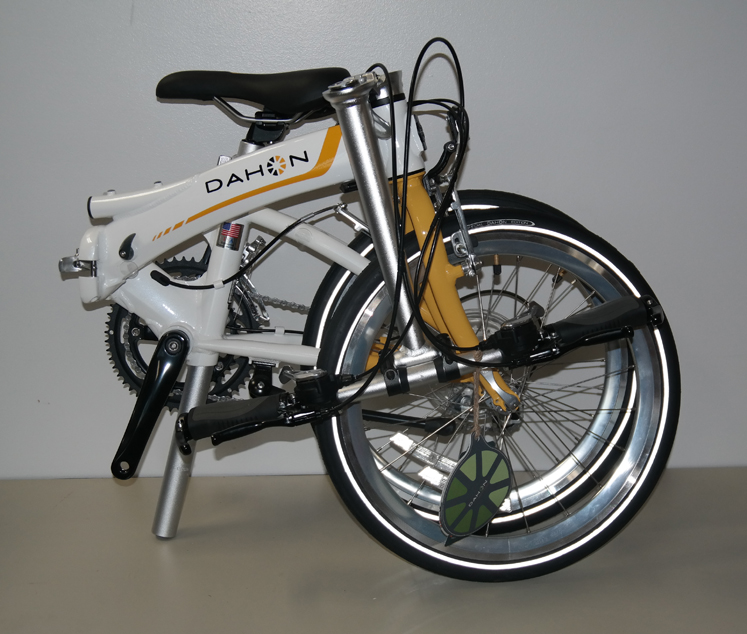 Nomadic upgrade 2018 Visc d18 w/ matching silver seatpost, handlebar post, and aero wheels
Separately here, you can read about the upgrade I did adding Gates Belt Drive and Gearing to the Mu N360 model. This was a really cool project. Unfortunately now, that model (and it's horizontal rear dropout) is no longer available. I have one full set of the components available, so if you have a Mu N360 reach out and we can get you set up. We also have the fantastic FSA Metropolis 2 speed Patterson crank which were also added to some of these Mu N360's.
Nomadic 2018 upgrade, Mu N360 with Gates Belt Drive and Chainwheel
Upgrades I recomend for many Dahon Folding Bikes
Upgrade of Bottom Bracket if built with loose ball BB set. You can usually identify a Loose Ball BB by its having a steel cover cap (picture to follow).
Upgrade of Handlebar Post to Adjustable if wanting more fit possibilities. (we have these available)
Handlebar Grips are an easy upgrade and can really change your riding experience.
Most bikes costing $500 and less will really benefit from a better transmission. This includes Chainwheel and rear cog set and derailleur. (Given our current price on Speed D8's (2018 models) if buying new, I definitely recomend that you start with either the Speed D8 or Mariner level so that you get a wide set of gears and better level of derailleur.
Racks and Fenders are available. I recomend getting comfortable installing and uninstalling. These can be very practical, but they can also make it harder to pack a bike in a suitcase when they are installed. Keep in mind that the standard Dahon Arclite rack is functional, it does not have a super stout build to it if you want to go on multi-day tours. The Dahon Traveller and Dahon Ultimate racks can carry significantly more over your rear wheel. In the front, we have a very functional Sunlite rack that is inexpensive, light and effective. Dahon's Truss mounted Luggage/Cargo carrier is a nice unit. It matches well to the Ultimate rear rack (black only). Only negative there is that the Luggage Carrier and the Ultimate Rack are fairly heavy, so if you don't like weight you should just use these when you need to really carry a load. They can defiitely do that.
For commuting you can't go wrong with Dahon's Stow Bags. Padded and built to a high standard, they are quite good. I have a few things we might improve but for now, these are as good as you can get. Dahon has a few other "slip case" type covers. One that fits in a seat bag. One that packs well to your seatpost. Good for commuting and packing into an RV or boat.
I am very fond of the Origami Traveller Suitcase. It carry's Dahon folding bikes very well. I find it tough, quite unique in the luggage carosel, and as such easy to see and not forget.
I need to make some more (and will), but the Nomadic Bike Burrito is a light weight commuter setup. Really nice to carry a bike and to keep the grease off you, your vehicle and others around.
I realize too, I need to make some more Nomadic Bike Pilot panniers. These panniers are the only ones with reasonable volume that can be used on a Dahon Arclite rack and still clear your heel as you pedal.
In the Nomadic lineup, my Velo Pant Guards I also refer to as "no excuse not to ride". I really really love these things. I will make some more sizes soon. The standard size works very well, but may be larger than required for smaller people. The important part is you keep your pants clean and out of the chain wheel. This helps safety, economics (repairand cleaning) and generally makes it an instantaneous decision to go riding. Together, these are great reasons to have one.
* note that Visc SL is shown with 36 spoke wheel and hub. Custom builds will use the standard Visc SL 24 spoke hub and Velocity wheels.
Tags: Suitcase Packable