Gates Belt Drive with Nuvinici N360 in Nomadic Dahon Mu N360 Folding Bike
At Nomadic, we have brought forward two very exciting updates to the Dahon Mu N360 model bike. Joining with Dahon's very well regarded Mu Frame platform, these modifications are focused on the integration of the Gates CTX Belt Drive being paired with the remarkable NuVinci N360 CVT (Continuously Variable Transmission).
The Nomadic-Dahon Mu N360 Gates Bike (above) is clean and effective. This brings the Gates CTX Belt System, along with new fitted bottom bracket, crank set, belt tensioner together with a high level of integral precision. The fundamental aspect of the Gates Belt Drive is that it is not "lubricated" the way chain's need to be lubricated. Further, it is very quiet. In a folding bike, not being lubricated means that you can carry it on your hip, throw it in the back seat of your car, lean into it with your leg and you won't get grease stains. When you ride it, it really imparts a different experience. You get almost a feeling of "flying" it is so quiet. Part of this is its mating with the remarkable NuVinci transmission which does not shift in a "clicking" manner, but reather in a smooth transitional manner. It also has a relatively quiet coasting mode, which you may note in that its efficiency gets you to speed and coasting frequently. New Bottom Bracket and Crank sets are required as part of this upgrade and choices can be communicated.
Dahon Mu N360 with Gates Drive and Patterson 2 Speed Crank System -
The full step further.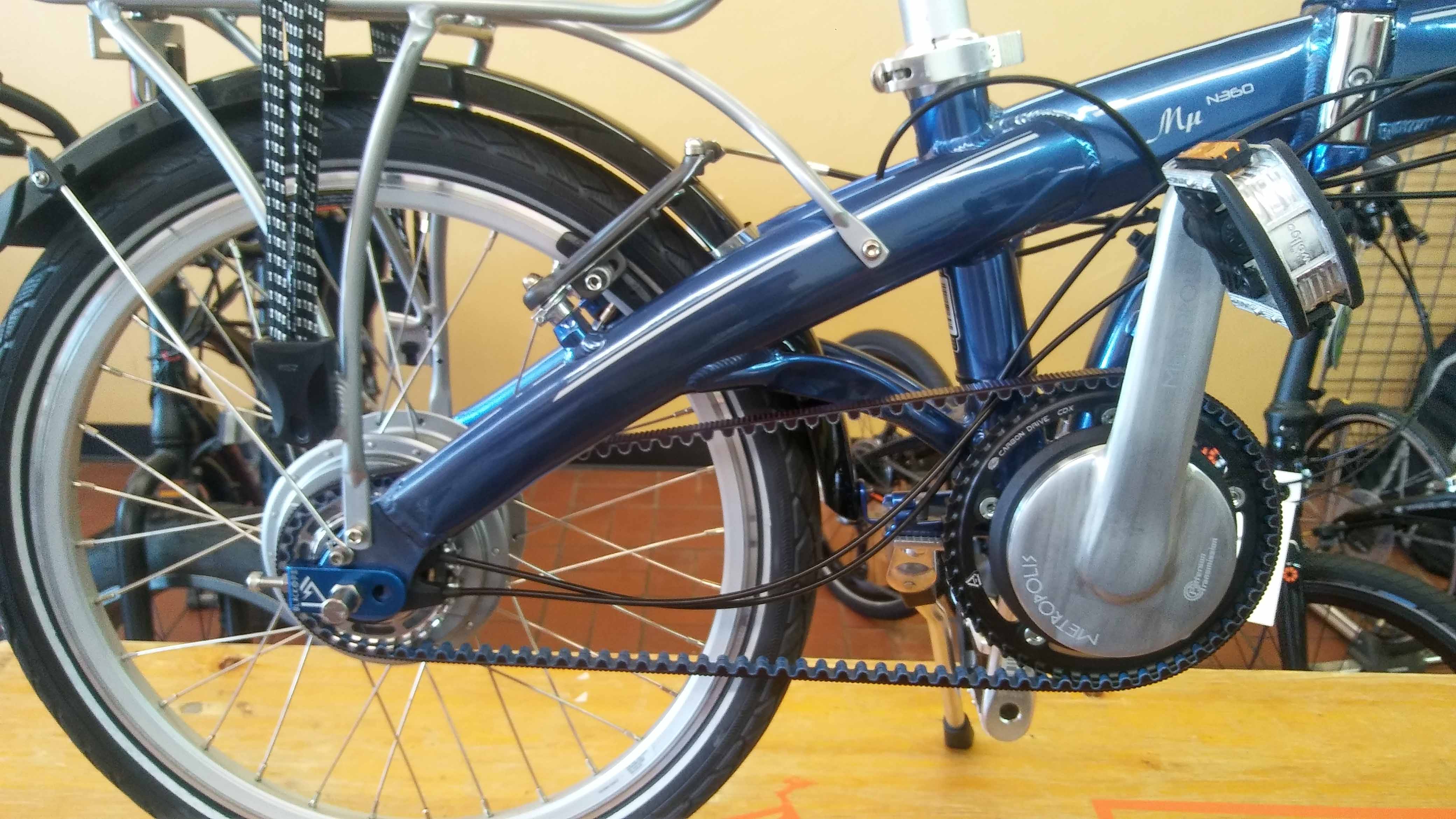 The addition of the Patterson 2 Speed Planetary Gear crank gives the bike both a Overdrive and Low range which expands the Nuvinci N360's of 360% to a remarkable 576% from its lowest to highest gearing. Making this jump we have purposely expanded the range both Low and High. This makes the bike capable of climbing even the steepest grades, yet rolls down the road at speed and under power at a remarkable clip. The bike is capable for both touring and cargo/trailer uses. Shifting is nearly instantaneous throughout the range.
We have a limited supply of these bikes available. We can also retrofit existing N360's both in our shop and in a provided kit form. We will update this article with direct order information as we move forward. Exciting bikes!