Part 3: Folding Bike gearing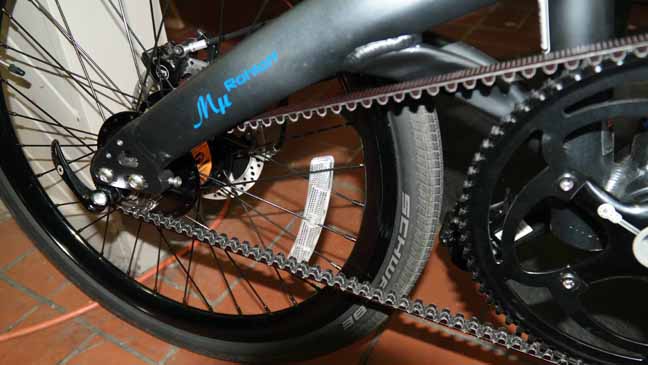 From a distance it can be difficult to understand the differences between different folding bikes.  Still, variations are important and several.  I have a shop full of different folding bikes.  I noticed recently that I have a great range of very nice bikes.  From my view they are quite different, and each one has their attractions.  From a distance, I am sure still, the differences read in the number of gears and not much more.
First of all, the number of gears are important.  1 Speed vs 3 Speed,  3 Speed vs 7 or 8 Speed, 8 Speed vs 14, 18 or 20 speeds, differences are significant.  Realize, too, that wheel size is part of the transmission system.  Taking a Gearset straiight from a 26 inch or 700c bike to a 20 inch bike will tend to make an underpowered bike because you have so much additional torque in the smaller 20" wheel.  Offsetting this with bigger chainrings changes this, but I also find that 20" builds give very considerable other advantages in bike transmission performance.
When considering Gears it is important to think about the "Gear Range",  ie the amount of range variation between the lowest and highest gear.  Generally, but not always, ranges increase with the number of gears themself.  At times however, this is not the case.  Bikes designed to "be fast" often have "fast gear sets" which are tightly packed and are designed to increase speeds with small and direct steps.  Dahon's Mu LT10 and Formula S18 are these type of bikes.  Changing the Cassette in the LT10 to one such as in the MU D10 Tour yields a much wider gear range, and specifically, a bike with more comfortable gears for climbing.  You can see this simply in the wider set of cogs, specifically the scale of the largest cog on the rear cassette.  
Beyond the cassette, the chainring situation is also significant.  Chainrings, the gears that are part of the front crankset, work to set the pace of all the gears in the back.   The smaller the chainring, the easier the peddaling, climbing and enjoying difficult rides.  Still, the smaller the chainring, with a smaller wheel size, (16, 18, 20") the slower the bike and the more difficult it can be to apply power.  A bigger chainring with a small tire makes, generally, for a faster bike and a bike that is fun in an urban setting.  Double Chainring sets work to balance these situations, allowing great climbing on the small chainring, and great speed on the big chainring.  1x9, 1x10 and 1x11 transmission setups can also give a great range, giving both climbing and speed in a functional and un-confusing system.
I am particularly taken by the Mu D10 Tour which has a great rear cassette and big front chainring.  The bike is fast yet capable in climbing.  It also has a great range of accessories, including fenders, rack and large comfortable tires.
The Visc D18 series likewise offers a great range of gears and a "fast riding feel".  The Visc comes standard with smaller wheels, a Tiagra or Sora Transmission set from Shimano, and together with a well spread front and rear chainwheel.  This set up is very broad in its gearing and very comfortable to work in climbing or cruising mode.  I find that I tend to ride on the big Chainring most of the times out on the planes, and switch to the small chainring when I am working the hills.  Each set is actually overlapping, but the simplicity of up and down shifting I find to work best in relatively conservative front chaingring shifting.
 Stepping into the realm of "non-derailleured" rear hubs.  The choices tend to be less.  Dahon offers standard Single Speed, 3 Speed and 7 Speed variations (the 8 Speed Curl has been announced).  I find the Vitesse D3 (I3 by new nomenclature) to be a tremendous value and a lot more fun to ride than simple single speeds.  Stepping to the Vitesse I7 brings ciomfortable step differences and a widens the gear range from 193% to 245%.  I have just added a 2 Speed FSA Patterson Crank transmission to a Vitesse I7 creatig effectively an internal hub 14 Speed for a considerably lower price than the fantastic Dahon Rohloff i14 (which is in a pricerange bordering on Maybach Automobiles in comparison).
If you are riding hills and flats, wider gear ranges really can change your experience.  If you are not, all those choices mostly will add to your cost, and perhaps will confuse some of your riding.  It is quite nice to jump on a 3 speed bike once in a while.  Easy, Normal and Fast.  1, 2 and 3.  Those are the gears.  I'm not much for single speeds, but it is true that I grew up with a a 3 speed Schwinn StingRay and you can have a lot of fun with 3 speeds only.  I am liking 10-20 speeds more but ultimately it depends where you are riding, how much versatility you need, and most importantly, whether your high and low gears are high and low enough for you.
Other component aspects will also make a difference for you, but your transmission setup is the most importat differentiator.  
Schedule a time to try some of our demos and feel for yourself what you prefer.  If that is inconventient, lets continue the conversation.
I hope to meet or speak with you soon.